Run the night at the 2023 Behan Bros. Newport Night Run on Saturday, April 1st! The city-by-the-sea's annual after-hours 5K starts and finishes at Rogers High School and benefits the Newport Public Education Foundation. The course showcases some of Newport's most beautiful rural roads, including parts of Ocean Avenue and Hazard Road. Walkers and runners of all ages and paces are welcome to participate!
The Mission
A portion of all registration fees and 100% of all sponsorship fees go directly to the Newport Public Education Foundation.
The NPEF is an independent, non-profit whose mission is to improve the performance of Newport's public school children by enhancing their educational opportunities and by building broad-based community support for quality public education.
Important Race Information
Bib Pick-Up
Registered participants will receive a race bib and timing chip at registration on race night in the Rogers High School cafeteria from 5:30 PM – 7:15 PM  (map)
Runners can pick up their bib and timing chip on race night but it is strongly recommended that runners arrive early to park and alleviate race night delays.
Parking
Event parking is available at Rogers High School on a first-come, first-served basis in the lots off of Wickham Rd. and Old Fort Rd (map). We encourage participants to carpool and arrive early as parking lot spaces are limited at the High School. Additional overflow street parking is available on Old Fort Rd (map) and the surrounding neighborhood.
Extreme Weather Policy
Our events are held rain or shine. However, there is always the potential for extreme or severe weather conditions. Race organizers will do as much as we can to ensure the experience is as safe as possible. In the event of severe weather, the race may be delayed as race officials consult public safety officers. If there is more than a short delay, if conditions persist, or the forecast calls for extreme weather, race officials reserve the right to alter or cancel the race. We do not schedule "rain dates". Any decision to cancel an event is done as an absolute last resort and is made collectively with local risk management, police, fire & rescue, and medical personnel as appropriate. In such situations, there will be NO REFUNDS as registrants accept any such risk of their entry free when signing up.
Please check the website, our Facebook page, and your email before the race for any changes or cancellations.
Additional Questions?
If you have any additional questions, please review our website or do not hesitate to contact us.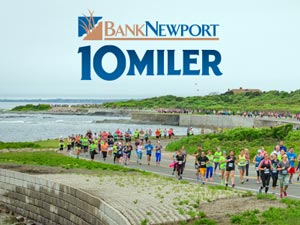 BankNewport 10 Miler
Join us on June 4th for this oceanside 10-mile road race that features the best of Newport and has a unique finish inside Fort Adams. More Info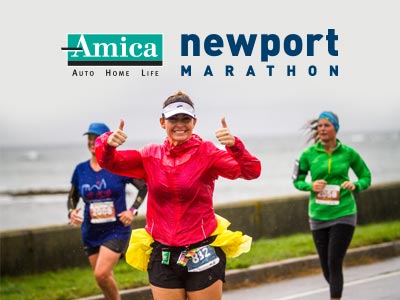 Amica Newport Marathon
This October 8th Marathon and Half-Marathon feature all of the beauty and grandeur the City By The Sea has to offer. More Info